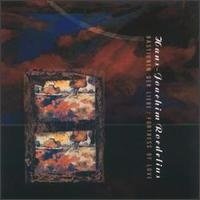 Bastionen Der Liebe / Fortress Of Love
And for his next trick, Roedelius speaks. A fireside homage to all things bright and beautiful.
 
Whatever the sales target that the Virgin's newly minted Venture label had for Roedelius' previous album Momenti Felici it was soon deleted. The same fate cursed Bastionen der Liebe (Fortress of Love) despite this being his most personal album. Titles like "Happy Birthday", "Smile", "Life is a Treasure of..." set the mood, and there's a heartfelt spoken tribute to his wife Martha complete with heavenly choirs. Like Bob Dylan's regression into nursery rhyme or Ornette Coleman's use of his ten-year old son on drums, this unaffected naivete works, if you allow it to. Roedelius expertly intertwines wispy electronics with Tony Morley's chugging guitar or Alexander Czjzek's sax. A larger than usual cast of guest players lend acoustic coloration. "Feu Doux" adds a little grit by grunting at the "flood of cheap talk" on TV and raging at the "glistening architecture" tearing the heart of old cities. But this is his happiest work, so naturally the Roedelius completists divide down the middle, rating it a disarming classic or overly sweet.
Source: Stephen Iliffe
---
Related Albums