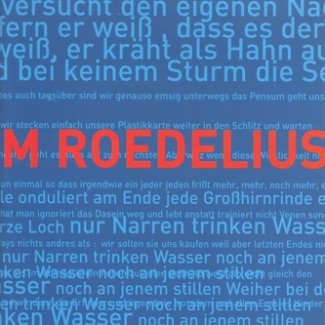 Lieder Vom Steinfeld - Vom Nutzen Der Stunden Vol. III
Final volume of the Lieder trilog. Very topical too with critical digs at GM food and genetically cloned sheep.
 
For non-German speakers, the fact that his rare spoken or half-sung works are nearly all in his mother tongue is reason to give thanks that Roedelius has mostly downloaded his psyche into purely instrumental music - an intuitive aural code that celebrates the miracle of what it means to be alive without needing words to explain it. Even so, the meaning of "Geburtstag" (Birthday song) is clear enough with its snappy trip hop rhythm and giddy flutes. On the multi-lingual "Ja glaub' an die Kultur" (Believe in Culture) he mixes in some French, while the English lyric of "Treasure of Secrets" gives thanks for the inexplicable gift of life: "Life is the great adventure / Beautiful journey into what you don't know". He then critiques science's attempts to unravel God's creatin - "Die Gluksschmied" warns of reducing life to "A highly simplified programme / available with RAM".
---
Related Albums