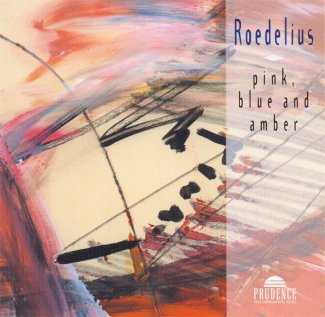 Pink, Blue And Amber
Roedelius' affair with the Orient continues. By common consent one of the best of his ensemble works.
 
The favourite of Audion critic Gary Scott: "Roedelius often allows his compositions to mature like fine wine or good cheese, before releasing them into the world. This album evolved over a nine-year period and brings almost a dozen musicians from diverse backgrounds under his influence, treating them as equals. Add the wide range of musical styles, it makes for a box of delights." It certainly does. "Gem" is a heavenly nine-minute conversation between east and west, his gurgling keyboard and the pentatonic scale of Yuko Matsuzaki's plucked koto. Felix Jay's deconstructed gamelan chimes on "Early Blue" dance like underwater sunlight. The louring keyboards of "Bambuswind" hang like an opiate perfume over the sound of grinding tectonic plates. Like Miles Davis, his lyricism has real power when growth and decay, life and death are presented as flip sides of the same coin. One of the very best in the Roedelius oeuvre.
Source: Stephen Iliffe
---
Related Albums