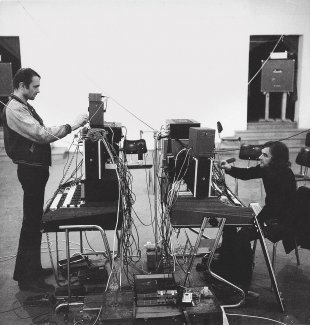 Cluster
Formed in 1971 Berlin, Cluster was a multi-instrumental and electronics duo of Dieter Moebius and Hans-Joachim Roedelius.
The formation evolved from the trio Kluster with Conrad Schnitzler, and its related project Eruption.
Early recording of the band involve guitars, keyboards and home-made electronic devices. Of a very experimental nature, Cluster is on the edge of what is known as Krautrock. 
In a cooperation with Michael Rother from Neu!, the hybrid project Harmonia, and to a more musical direction for Cluster. 
Collaborations with Brian Eno were recorded, and later recordings cover a wide range of styles. 
Cluster as a duo of Moebius and Roedelius was put on hold in 1981, only to be reformed for many occasions later on. 
---
Related Albums