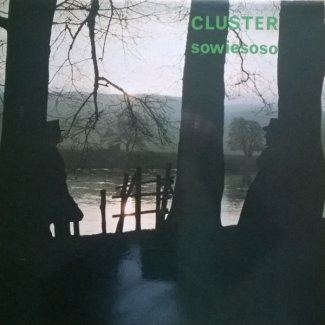 Sowiesoso
Listen on Spotify
Cluster take a picnic in the woods with another slice of good time electronica.
 
The second Cluster album from Moebius' and Roedelius' mid-70s sojourn in the rural village of Forst, Sowiesoso comes on like a sack full of electro fertility rites for spring. It has the kind of lo-fi analogue synths to make modern digital studio manager gag, yet is packed with the infectious rhythms and melodies that leave the rest of us smiling stupidly.
 
The percolating one chord mantra and lilting tune of the title track lays out the album's signature - an exquisite tension betwixt lo-fi cheesy synths and gorgeous lyrical beauty - as Cluster's tour manager once said: "When I first heard it, it sounded like some heavenly music, yet the primary instrument appears to be a coffee machine." The synthetic "Halwa" has a rippling eastern Arabesque, while the nocturnal ambience of "Eis war Einmal" (Once Upom a Time) appears to be giving encouragement to the New Age movement that would soon appropriate the synthesiser for its own pastoral anthems. Yet po-faced New Age never had the chutzpah or wit to serve up anything as funny peculiar as "Umleitung" (Detour). A pulsating octave bass flirts with a boucy piano motif until primitive drum boxes up the ante for the duo to slow fade in a raving chorus that sounds like a flock of shepherds on an all-night bender.
 
Yet even with their lo-fi values and jokey interludes, Sowiesoso never loses it's sublime grace. By the time we reach the woozy kosmische of "In Ewigkeit" (In Eternity) you're left wondering what more incentives do today's digital gearheads need to discover the warmth and wit of early analogue synths.
Source: Stephen Iliffe
---
Related Albums