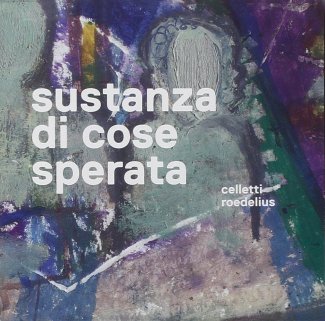 Sustanza di Cose Sperata
Tracklist not available yet or incomplete
Listen on Spotify
Celetti's piano intertwined with Roedelius's electronic suggestions and vice versa.
 
The title translates as the "substance of things hoped for".
 
Hans Joachim Roedelius and Alessandra Celletti met in the virtual space of myspace, sending brief, reciprocal messages expressing their esteem and interest for their respective musical experiences. Finally, in the spring of 2007, the German musician, pioneer of avantgarde electronic music, invited the Roman pianist to play Erik Satie in Lunz, at the "smallest and most delightful" festival which takes place during the summer at the magical lake in the Austrian town. Thanks to this meeting their reciprocal musical interest was strengthened and they found a similarity of intent in their attentive and sensitive research into the colour of sounds and the magical atmosphere evoked by musical notes. In december 2007 Alessandra sent Joachim The Golden Fly, her latest disk with 16 compositions for solo piano. Joachim was enchanted and decided to work on this material to create remixes and blend his masterful ability with electronic sounds with Alessandra's piano.
---
Related Albums