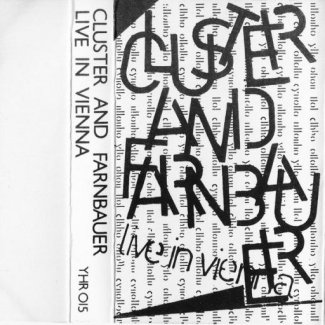 Cluster & Farnbauer - Live In Vienna 1980
Listen on Spotify
This Will o' the Wisp was initially released in 1980 on David Elliot's YHR cassette label in a limited edition of 100 and remained out of print for 30 years. In the 1990s, two of six tracks were crudely edited into bonus fillers for Kluster re-issue. By 2005, I finally nabbed one of these casettes, with its home-stencilled artwork, for an extortionate Ebay price - only to discover to discover a lo-fi tape replete with ferric static and hiss. So, hats off to Important Records for restoring Vienna to its full length, spreading it generously across two discs, and remastering it. Nicely packaged too, with typically austere graphics by Moebius.
 
By the time they reach album number eight, the work of most groups has been rubbed smooth by complacency or compromise, like an eroded stone. It says much for Cluster's endless capacity for renewal that Vienna abandons the rhythmic loops of their 70s avant-pop classics to improvise abstract free-form soundscapes.
 
And, how many would risk a one-off performance with a wild card such as Joschi Farnbauer on his
custom-made metal sculpture-cum-percussives?
 
Moebius and Roedelius unfurl their subtle drones, blipping pulses and white noise while Farnbauer sympathetically disturbs the flow with his close-miked efforts - ranging from barely perceptible tik-takking metallica to rippling gongs and industrial-strength beats and reverberations.The effect is cinematic as one slow-burning episode succeeds another and the tension builds, disperses and explodes.
 
On the standout track, 'Metalle', the trio expands into a gamelan-like ensemble, with the addition of the gig's sound engineers Jürs and Rapnik, for a mesmerising 25-minute trip full of overlapping drum patterns, sheet metal noise and Kosmische synths.
 
Two gentle etudes from Roedelius' Bosendorfer grand piano are subtly infiltrated by Farnbauer's gossamer alien percussives, Vienna's classical past neatly clasping hands with future shock.
Source: Stephen Iliffe
---
Related Albums