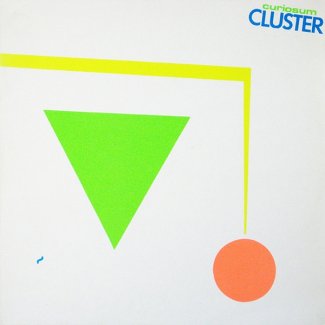 Curiosum
Listen on Spotify
Not a delicate listening experience, as the album sleeve artwork hints, but Cluster's heaviest album to date.
 
Curious indeed. Like a deep sea Coelcanth, Cluster operated so far beneath the music industry's sonar that in 1981 they were still recording when Krautrock was assumed extinct. Curiosum moves away from the pastoral ambience of Sowiesoso towards the rougher, dislocated sound of the Moebius-Plank axis. A hard-edged sequence of keyboard four-handers that could be any mid-1970s Cluster with the middle register tracks stripped out. At the heart of the 7-minute ten-league boot stomp of "Proantipro" there's a void where you'd expect Roedelius' sweetness to impose. The sheer repetition of its thudding beats demands a monkish devotion to the act of listening until you sense a sublime noodling wihtin it's inner spaces; clockwork toys, spectral groans, that just make for the barest of linear development. Yet the result is oddly affecting, as if calling on you to fill the blanks with your found emotions.
 
Excerpt from Painting with Sound - the life and Music of Hans-Joachim Roedelius by Stephen Iliffe, publ. Meridian Music Guides.
---
Related Albums